About Me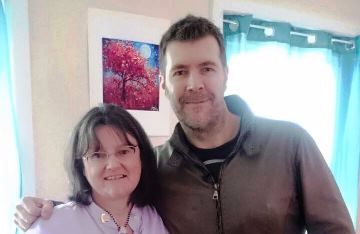 Here I am with the lovely Rhod Gilbert just after we had finished an afternoon's filming for my 3 minute appearance on Rhod Gilbert's Work Experience Series 6 but how did I get here?
Well, my original career path originated when I studied A level computer science, leading me into the world of software programming and IT and culminated in my being a Database Administrator. It was during this period of my life that I began to look for something different. In 1996 I re-started my IT career after several years as a full-time mother and wanted to discover who I am. This was the beginning of my interest in crystals and holistic healing. My very first workshop was a Crystal Massage weekend with Denise Wichello Brown and that became the launchpad for my desire to become a complementary therapist. I began with a course in Anatomy & Physiology, followed by a number of different crystal therapy courses ranging from correspondence course to formal classroom to a 2-year diploma course with ICGT. Alongside this I began my Reiki path, initially for personal reasons, with Lorraine Rees and achieved Reiki Master Teacher in 2005. I worked part-time in the world of IT as a qualified tutor for nearly 9 years before taking voluntary redundancy, during which time I continued to develop my skills as a therapist and further my knowledge in complementary therapies.
In 2012 I added Meditation Teacher Diploma (BSoM) & VTCT Level 3 Diploma in Reflexology Techniques to my skillset .
In more recent years I have completed studying for a Level 3 Diploma in Holistic Massage, Thai Foot Massage, On-Site Massage & Acupressure, Stress Management Practitioner Course, ITEC L3 Aromatherapy, Bach Flower Remedies levels 1 & 2, Hot Stones Reflexology, Holistics Facials, Bellabaci Cupping Technique, Acupressure and more.
I also finally took all the nudges and hints from the Universe to teach! Currently delivering Reiki Level 1, 2 and 3 MP evening classes, SKillfulMIND Meditation sessions, accredited courses in Crystal Therapy and one-day workshops on topics such as Meditation with Mandalas and Introduction to Crystals etc. I have plans for a number of other workshops and courses in the pipeline too so.....watch this space!
I can also be seen out and about at fairs and other events with my Travelling Crystals Stall and am often invited to be a guest speaker at local groups & events.
In 2018 I collaborated with three other lovely ladies (Jayne Davey, Pat Underwood & Petrena Talbott) to organise holistic retreats in the lovely setting of Elan Valley. mid Wales.
My Qualifications

Reiki Master Teacher




Diploma in Crystal Therapy (ICGT)




IHM Practitioner (Teach Therapy)




On-Site Massage & Acupressure (Teach Therapy)




Meditation Teacher Diploma(BSoM)




Stress Management Practitioner & Instructor




(Zodiac Complementary Therapy Training)

SkillfulMind Meditation Leader




Diploma in Massage techniques (ITEC)




Meridian Energy Therapist (EFT & TBP)




Diploma in Reflexology Techniques (VTCT)




PGCE (University of Wales, Newport)




BSc (Hons.) (Open University)




First Aid Certificate




Professional Memberships & Registrations

Complementary Health Professionals (CHP) - as an accredited college and a therapist